May 17, 2023
By Bob Peters

Cornish Ont – There is a new resource available to local small businesses that are looking to adopt new technology.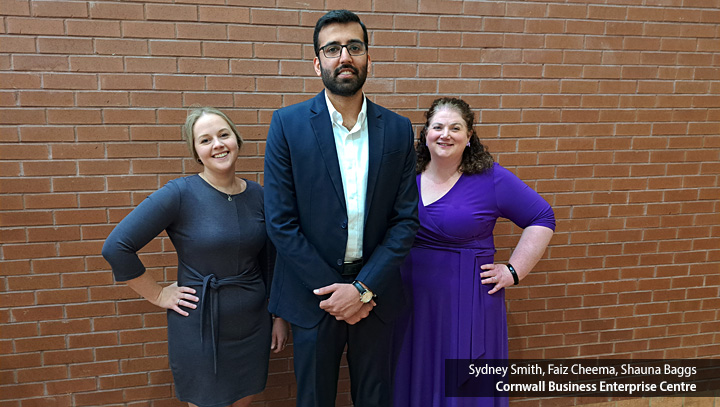 The Cornwall Business Enterprise Center is launching a new Digital Service Squad service that will provide one-on-one advisory services to business owners who want to evaluate their current digital set-up, review best practices and evaluate new technologies.
"We are excited to welcome a Digital Service Squad to Cornwall, SDG and Akwesasne," said Shauna Baggs, Business Consultant with the Cornwall Business Enterprise Centre. "We are happy to have been selected to receive these funds to assist small businesses with their online technologies and look forward to helping local business owners adapt to new tools."
The Digital Service Squad is being funded through a grant of $65,000 from the Digital Main Street Program. In addition to the Digital Service Squad, the program also funds the Digital Transformation Grant, which can provide funding of up to $2500.
Mr. Faiz Cheema has joined the CBEC team to lead the local Digital Service Squad. Mr. Cheema brings a passion for marketing and dedication to supporting local businesses, along with several years of experience working in the business sector.
"I am looking forward to meeting local small business owners and helping them find solutions to their digital business needs," said Mr. Cheema.
About Digital Service Squads
Digital Service Squads (DSS) are the cornerstone of Digital Main Street, with trained specialists who meet with brick-and-mortar small businesses, at no cost, to help them complete an online assessment and to introduce them to online training modules designed to build their digital knowledge and skills.
This one-on-one DSS help includes support for:
basic website setup
Google Business Profiles
360⁰ photos
social media presence
and much more!
Squad members are also trained to help qualified small businesses with the development of their Digital Transformation Plan and then with the application process for a $2,500 Digital Transformation Grant.
The Digital Service Squad team is currently available to support businesses in Cornwall, Stormont, Dundas, Glengarry and Akwesasne. For more information, contact Faiz Cheema at 343-585-1166 or CBEC at 613-933-0074.
More information is also available online:
Related Articles
About Digital Main Street
Digital Main Street is an innovative program designed to help brick-and-mortar small businesses achieve digital transformation. The program is built around an online learning platform, structured training programs, grants, and Digital Service Squad teams of experts to help small businesses improve how they use digital technologies to promote and run their businesses.
About the Cornwall Business Enterprise Centre
The Cornwall Business Enterprise Center helps small business owners and entrepreneurs succeed in Cornwall, Stormont, Dundas, Glengarry & Akwesasne by offering information, tools and support during the start-up and growth stages of business operations. This includes administration of the Summer Company and Starter Company PLUS programs. The Cornwall Business Enterprise Center is operated by Cornwall Economic Development and funded in part by the Government of Ontario.
The Cornwall Business Enterprise Center is located at 100 Water Street East (Cornwall Civic Complex) and can be contacted by phone at 613-930-2787 x2276 or online at:
Categorized in: Business, Community, General, News